Giving Students the Best, So They Can Be Their Best
Renaissance Village Montessori provides an enriched environment in which children are inspired to reach their highest potential. The Montessori philosophies foster a strong sense of community and respect for self, others, and the environment, which builds a strong academic foundation for a lifetime of learning.
Renaissance Village Montessori programs are unique, reflecting the gifts and personalities of the staff. The level of our commitment to the children is unsurpassed. We are extremely aware of the importance of the work we do, and we recognize the opportunity to truly make a difference in the lives of children and their families. It is our vision to create an environment where children, parents, and teachers are supported in reaching their full potential.
Our goals at Renaissance Village Montessori include:
✅ Independence with responsibility – Children thrive with pride in their competence as they learn to work independently and responsibly put their work back when finished and care for their school environment
✅ Concentration –The child's attention span develops as they learn to focus, fostering good study habits.
✅ Coordination – Attractive, fun exercises that strengthen your child's hand for writing and train the eye for reading are provided.
✅ Order – Our environment is based on order. Order leads to logical thinking for future math concepts, problem-solving, and decision making.
✅ Socialization – We provide a natural environment encouraging children to meet, interact, and make friends, with guidance when needed.
✅ Academic Growth – Your child is offered opportunities to learn to read, write, and form math concepts.
✅ Emotional maturation – Our goal is that your child will develop a positive self-concept, competence with social and language skills and love of learning.
✅ Self-Control – Children work on developing their inner discipline and how to become responsible for their own actions.
We look forward to sharing more about our programs and helping your child make a great start in life!
The Essentials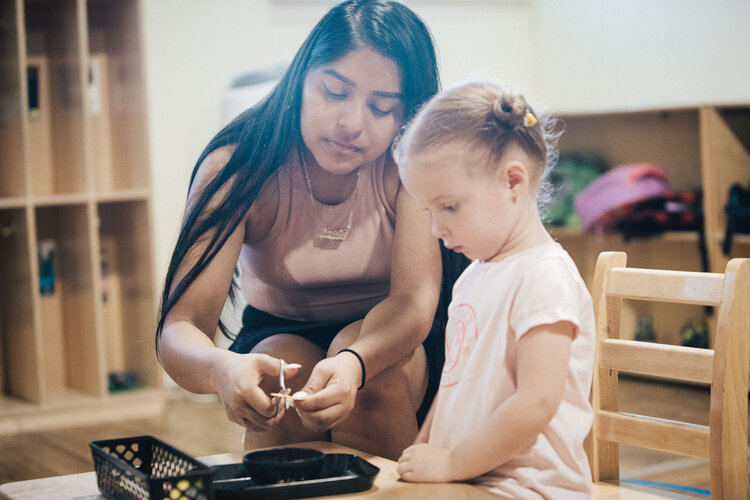 Why Montessori?
The goals of Montessori education are to foster independence, respect for self and others, and the natural love for learning that all children inherently possess. The Montessori classroom is a prepared environment designed to support the development of the whole child into a responsible and engaged citizen.
Free the child's potential and you will transform him into the world.
– Maria Montessori
Our Mission
Our mission is to create and sustain a community of happy and healthy families by providing resources that support parents in their role as the child's primary teacher, and by preparing beautiful, orderly environments that enable the child to learn through self-discovery.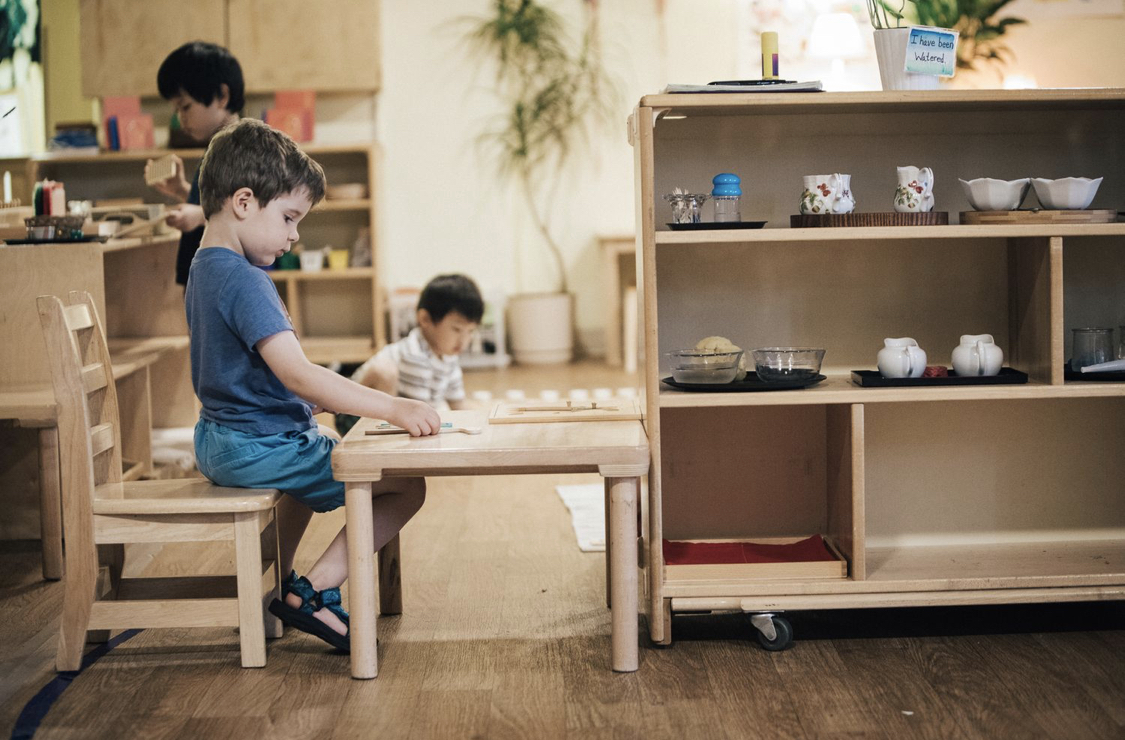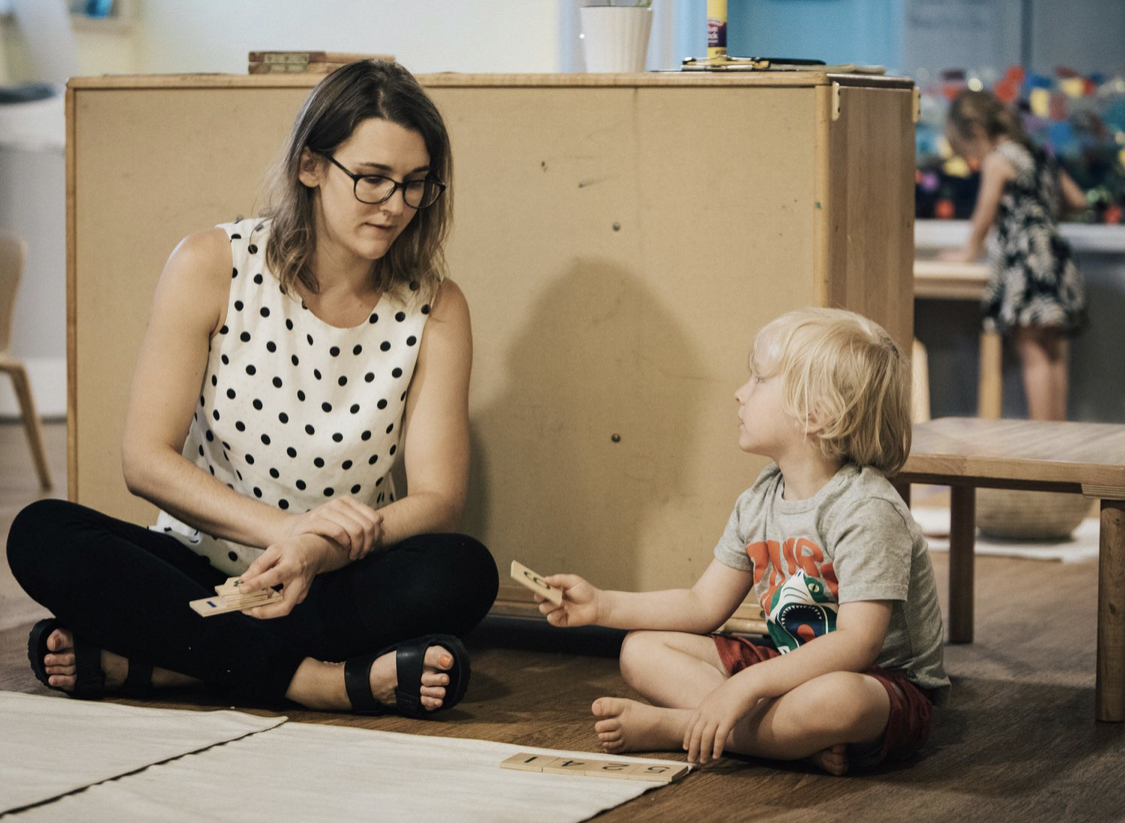 Admissions
The process begins with an orientation meeting with the director. Following your meeting with the director we invite you to visit with your child and observe one of our classrooms to see how our teachers interact with our students. You'll notice the children's high level of independence and the attention to detail that the teachers have put into designing the classroom.
Now Accepting Applications for the 2022-2023 School Year. Space is limited!
Parent Testimonials
"our heartfelt thanks for all the special attention, caring and love you've shown [our son] and our family over the last three (!!) years. There was all that crying and whining at the beginning—and that was just [mom] and me! Seriously, so many members of the staff have made such a fantastic impact, we simply can't thank you enough! It's a great institution, peopled by caring and supportive teachers and staff."
"From the moment we walked into Renaissance Village in 2018, we realized we had found our new home. Not only for our 15 month old daughter, but also for our family as a whole. Miss Ivana gave our daughter the greatest gift of all: a love for learning and going to school. The entire Renaissance Village faculty and staff are nurturing and attentive to each child's needs. I am rest assured each and every time that we drop off our daughter at school, she will be well cared for and come home beaming and excited to share her day with us. We could not be happier, two years later. From Montessori Beginnings to the Toddler classroom and now the Primary room. We are lucky to have this village in Washington Heights. Renaissance Village is a gem."
"When our older child started at Renaissance in the toddler room, we were immediately impressed by the kindness and warmth of the teacher and staff who helped him feel at home. He enjoyed the Montessori environment and gained independence and knowledge. We found ourselves part of a neighborhood community – our son formed friendships that persist even as he has entered elementary school, and we met fellow parents. When he moved up to the primary room, he became engaged with new materials, learning a ton, and loving weekly nature walks. We appreciated his teacher's thoughtfulness about the curriculum, and at parent-teacher conferences, she seemed to really know our child and appreciate him. Our younger child started in the toddler room this year, and we hope to have a similar experience."
"RenVil is the most amazing program and we feel so lucky to have found it! It has been a joy watching our kids develop a love of learning and a sense of independence. The Montessori method is a wonderfully child-centric method of education, and we've enjoyed learning about it and incorporating it into our parenting. All of the staff is so kind and dedicated, and they truly know our children. We highly recommend this school! Do yourself and your child a favor and schedule an orientation to hear what it's all about."